Non-Wired MPEM Ignition Module 5A Test
If your 5A fuse is blowing on your non-wired plug in mpem then the chart below will tell you where to connect power to see if the mpem is faulty. Note to bench test the mpem you'll need to first label and unplug all harnesses. Then you unbolt the mpem from the bracket and remove from the watercraft. Once on a bench, insert a good 5A fuse in the proper location. The positive and negative always connect to one of the spade terminals and those are labeled 24/25/26 in each plug. Then using the connect info below, first connect ground to the proper plug and terminal. Then connect positive to the other terminal. If the fuse pops your mpem is faulty. If not, you'll need to determine what other problem in your electrical system is blowing that fuse.
---
As an example, if the connect info was 3-26…

The image below shows plug 3 which is the first number in the connect info.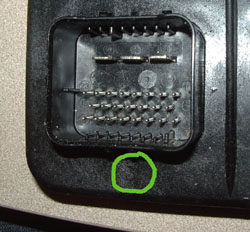 The image below shows connector 26 which is the second number in the connect info.
Note also 26 is always the upper left one, 25 is the middle, and 24 is the upper right when looking at a connector oriented as pictured.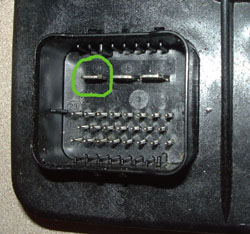 ---
| | | | |
| --- | --- | --- | --- |
| 204470139 | 1998 CHALLENGER / 2000 CHALLENGER | 1-24 | 1-26 |
| 204470155 | 1998-1999 CHALLENGER 1800 / 1999 SPEEDSTER | 1-24 | 1-26 |
| 204470184 | 1998-1999 SPORTSTER 1800 / 1999 SPEEDSTER SK | 1-24 | 1-26 |
| 204470545 | 2000 SPORTSTER LE | 3-26 | 3-24 |
| 204470179 | 1998 SPORTSTER / 2000 SPORTSTER | 1-24 | 1-26 |
| 278000916 | 1997 GTI GS / 1998 GTI GS | 1-26 | 1-25 |
| 278000926 | 1998 GSX LTD ('97 PRODUCTION) | 3-26 | 3-24 |
| 278000928 | 1997 GSI | 2-24 | 2-25 |
| 278000939 | 1998 GTX RFI | 3-26 | 3-24 |
| 278001031 | 1997 GSX | 3-26 | 3-24 |
| 278001078 | 1997 XP | 2-26 (3-26) | 2-24 (3-24) |
| 278001199 | 1998 XP LTD | 3-26 | 3-24 |
| 278001201 | 1997 GSX | 3-26 | 3-24 |
| 278001342 | 1998 XP LTD | 3-26 | 3-24 |
| 278001343 | 1998 GSX & GTX LTD | 3-26 | 3-24 |
| 278001356 | 1999 GSX RFI & GTX RFI | 3-26 | 3-25 |
| 278001362 | 1999 GSX LTD | 3-26 | 3-24 |
| 278001398 | 1999 GTX LTD / 2000-2001 LRV | 3-26 | 3-24 |
| 278001440 | 2000 GTX DI & RX DI | 3-25 | 3-24 |
| 278001496 | 1999-2001 GS / 2001 GTS / 1999-2002 GTI | 1-26 | 1-25 |
| 278001499 | 1999 GSX LTD & XP LTD | 3-26 | 3-24 |
| 278001525 | 2000-2002 GTX | 3-26 | 3-24 |
| 278001526 | 1999 GSX LTD / 2000 RX LTD / 2001 RX RXX / 1999-2002 XP | 3-26 | 3-24 |
| 278001529 | 2000 GSX RFI GTX RFI / 2001 GTX RFI | 3-26 | 3-24 |
| 278001577 | 1998 XP LTD | 3-26 | 3-24 |
| 278001695 | 2000-2001 GTX DI & RX DI | 3-25 | 3-24 |
| 278001774 | 2000-2001 GSX RFI / 2001 GTX RFI | 3-26 | 3-24 |
| 278001796 | 2003-2004 GTI (& LE) | 1-26 | 1-25 |
| 278001848 | 2003 GTI RFI | 3-26 | 3-24 |
| 278001981 | 2004 GTI RFI (& LE) | 3-26 | 3-24 |