MPEM Conversion Kit for 1995 Speedster
Offered here is a replacement for the discontinued and/or very expensive mpems used in the 1995 Speedster Jetboats. Note also I use a non-dess mpem for this conversion so if your boat has a dess style lanyard system, any dess lanyard will start your boat. That means no more going to the dealer for programming every time you need a new lanyard!
Kits are available to replace the following mpems...

278000601 mpem used with the 1995 Speedster Jetboat Kit Picture
This kit utilizes my universal mpem set (pictured below) for certain dual engine 657 boats. Note that set doesn't work for the 1994 Speedster since it uses amplifiers and a 5 wire stator but I can probably design and build a kit for that one as well. If you have a 1994 Speedster wiring diagram that would help speed kit development along too!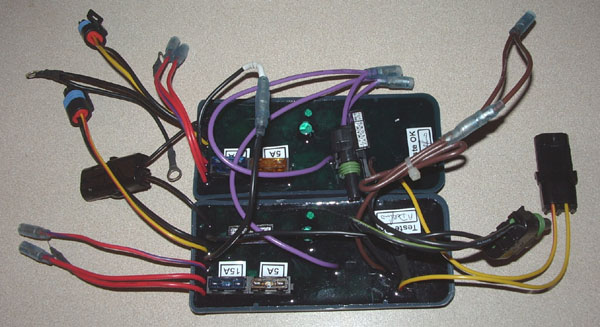 With this mpem set, your engines will be separated so if you ever have a problem where one mpem fries, you still can get back to shore using the other engine. Also with this a bad mpem can easily be removed and a replacement can be installed. The system also utilizes Weatherpak waterproof connectors better than oem to make connecting/disconnecting easy!
The only thing you'll need to remember when running your boat with any conversion kit installed is that there's now no neutral safety feature. That means the boat will start in gear. Also since that's been eliminated, there's also no neutral/reverse rev limiting. That means you need to be careful and not apply full throttle when backing or you could damage the reverse components. As long as you keep that in mind though, you shouldn't have a problem.
Kit Price - $539.99 inc. shipping
e-mail for kit purchase info
Below are instructions for removing your old mpem to be sent to me as well as procedures for installing my mpem conversion kit built for the 1995/1996/1997 Speedster Jetboat.
---
BAD MPEM REMOVAL...
Tools needed:
Screwdriver or Square Bit with ratchet
10mm Deep Well Socket & Ratchet
Large Pliers or Channel Locks
Procedure:
NOTE - Pictures below show a 1996 Speedster electrical box but the same procedures are used for 1995-1997 Speedster boats.

Using the 10mm ratchet, remove the positive battery cables from both batteries.

Using screwdriver and/or square bit with ratchet, remove the cover from the grey electrical box.

Using the 10mm ratchet, remove the ground nut and the nuts on the two start solenoids so you can remove the grounds and positive wires from the mpem and main round/rectangular connector.

Unplug all waterproof bullet connectors on wires coming from the mpem and from the main round/rectangular connector.

On the outside of the box, turn the ring on the main harness connector to release the main harness from the mpem connector. If yours has a rectangular connector, remove the retaining screw and unplug it.

Using large pliers or channel locks, remove the large nut retaining the mpem connector to the grey box. If yours has a rectangular connector, remove appropriate fasteners to allow detaching the connector from the grey box.

Using the 10mm ratchet, remove the two bolts retaining the mpem to the aluminum plate then the mpem should come loose and out. If you missed disconnecting any wires, you'll find out now!

Send the mpem in to me for conversion per the instructions you've received via email.
---
MPEM CONVERSION KIT INSTALLATION...
Tools needed:
Screwdriver or Square Bit with ratchet
10mm Deep Well Socket & Ratchet
Large Pliers or Channel Locks
Procedure:
NOTE - Pictures below show a 1996 Speedster electrical box but the same procedures are used for 1995-1997 Speedster boats.

NOTE - You also should thoroughly check your electrical system including stator, rectifier, wiring, and other components to make sure they're ok BEFORE installing one of these conversions. The reason is that if one of those components is bad, it can damage the conversion and may actually have been the cause of your original mpem failing. Since there's no warranty of any kind on Sea Doo electrical parts, this is a very important step that shouldn't be skipped!

Grasp the replacement mpem assy firmly and remove the protective plastic from each module to expose the adhesive on the double sided tape/Velcro.

Being careful not to stick in the wrong place, insert the assy into the box and center near the top of the box then press firmly on the modules to attach to the aluminum plate.

Reinstall the modified mpem connector in the reverse order it was removed.

Connect start solenoid connectors, coil connectors, and other connectors matching to their appropriate colors. Also reinstall any ground wires on the stud as well as positive wires from each mpem to their proper places on the start solenoid terminals.

Once all connectors and terminals are in their proper places and any nuts tightened, use zip ties to retain wires so they can't move/vibrate when running. That will keep you from having any strange electrical gremlins in the future and makes for a nice looking conversion too!

Once all is back together and before reinstalling the grey cover, reconnect the batteries and test the system for proper start/stop and gauge operation.

If all's well, reinstall the cover and you're ready to run!

NOTE - 1995 Speedster mpem conversion - On the 1995 Speedster mpem conversion, the boost switch now works whenever the purple ignition wire is energized (when engine is running). That means if you use your boost switch, you need to remember to switch it off once you've started the engines. Note also that the 1995 Speedster conversion now locates the fuses for the bilge pump, nav lights, bilge blower, etc in separate fuse holders connected to the main harness connector wires.

---

NOTE AS IS THE CASE WITH YOUR LOCAL DEALER, THERE ARE NO WARRANTIES/RETURNS ON THIS MPEM CONVERSION OR ON THE MPEM(S) IT'S BUILT WITH. THE REASON IS THAT I CAN'T RETURN ONE TO MY SUPPLIER AND SINCE YOU'RE THE ONE WHO NEEDS TO GET BACK ON THE WATER, YOU'RE ULTIMATELY THE ONE WHO TAKES ON ANY AND ALL RISK IN PURCHASING ONE OF THESE. ALL MPEMS ARE TESTED AT THE FACTORY TO BE IN PROPER WORKING ORDER AND IT DOESN'T HAPPEN OFTEN, BUT OCCASIONALLY A DEFECTIVE ONE MIGHT SLIP THROUGH. THEREFORE UNDERSTAND YOU DO GAMBLE A LITTLE PURCHASING ONE OF THESE SO TAKE THAT INTO CONSIDERATION BEFORE ORDERING. ALSO REMEMBER IF THERE'S ANY OTHER PROBLEM IN THE ELECTRICAL SYSTEM ON YOUR BOAT OR IF IT'S INITIALLY CONNECTED WRONG, YOU MIGHT DAMAGE THE MPEM(S).

---